Pipeline Neighborhood Guide : All You Need to Know
Pipeline estate is located approximately 9.5km Southeast of Nairobi CBD, West of the Outer Ring road in Embakasi South constituency, Nairobi County.
The estate is one of the most densely populated towns in Kenya as it falls within Embakasi which was ranked as the most densely populated area in Kenya by the Kenya National Bureau of Statistics in the last census conducted year 2019.
Due to this high population, apartments are built so close to one another to maximize the use of space and cater to the housing need of the ever-growing population. This leaves the apartments with very minimal natural light especially on the ground floor units, forcing occupants to use torches even during the day. Most of these ground-floor units also suffer network connection problems.
Neighborhoods bordering Pipeline
Some of the estates that border Pipeline estate are Tassia, Mukuru kwa Njenga, and Kware which are mostly occupied by low-income earners, and Imara Daima which is mostly occupied by middle-income earners.
Map of Pipeline Neighborhood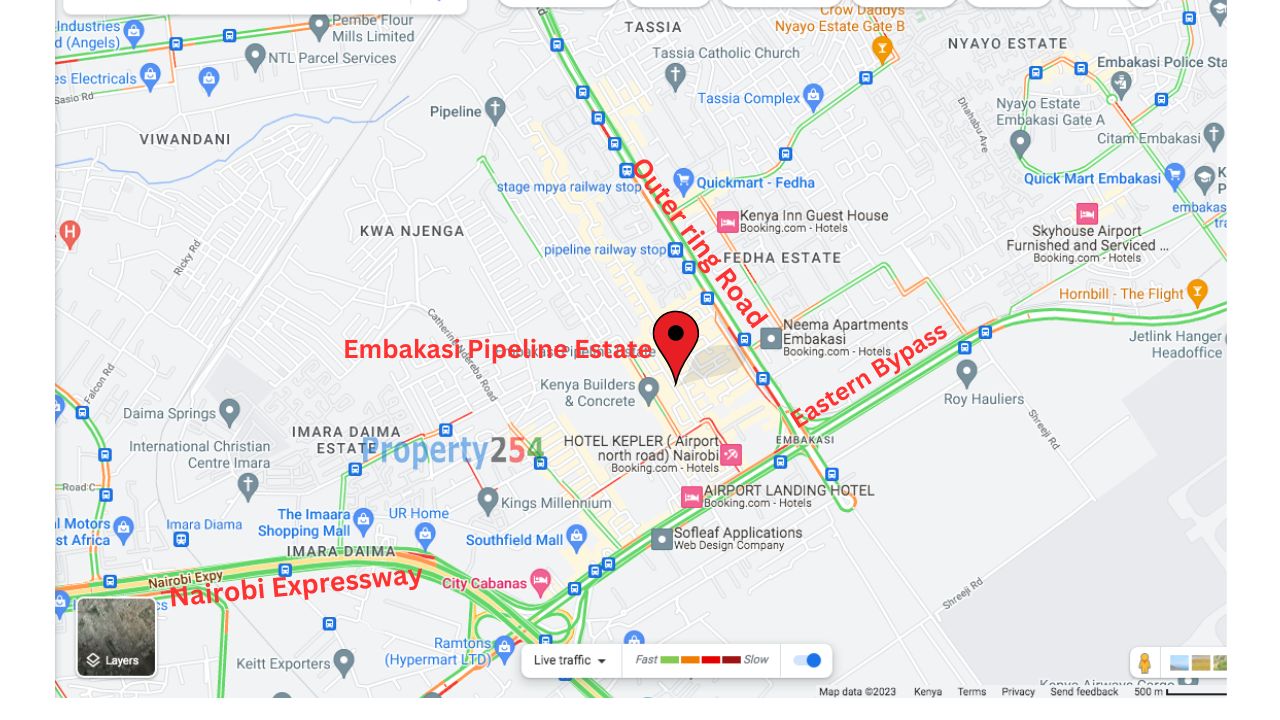 Transport to Pipeline from Nairobi.
There are 3 different main routes that can get you to pipeline estate from Nairobi commercial. These routes are coded as follows, 33C, 33DC, and 33DP.
When you board a bus with line number 33C it means the matatu will follow Nairobi- Cabanas and Embakasi route. While line number 33DC follows Nairobi- cabanas through Donholm and Embakasi. Line Number 33DP follows Nairobi to the pipeline estate in Embakasi Directly.
The fare ranges from as low as Ksh50 to Ksh150 depending on the time of the day and the matatu company.
Places of Worship in Pipeline
Pipeline estate is home to many places of worship where residents can seek solace and connect with their spirituality. There are over 100 churches in Pipeline; but here is a list of some of the most notable ones.
Redeemed gospel church Pipeline
African Inland Church
Christ Dominion Ministries
A.I.C Pipeline
A.I.P.C.A Pipeline
Church of restoration
Gospel Victory Church
PEFA community church
Sosian PCEA Embakasi
Christ Covenant Ministry International
Light embassy church pipeline
Redeemed Gospel Church
R.G.C Pipeline Youth Ministry
READ ALSO: Zimmerman Neighborhood Guide: All You Need to Know
Healthcare services in Pipeline.
Access to quality healthcare services is one of the crucial pillars of a thriving community. Below is a list of different places in and within Pipeline estate where residents can receive quality healthcare services.
Neema care dispensary PCEA Pipeline
Dilabit pharmacy Limited
Aga Khan Pipeline
PCEA Pipeline clinic
Bliss Medical Centre Pipeline
Pipeline Health Centre
Bizet Medical Centre
Pipeline Medical Centre
Pipeline Modern Hospital
Pipeline Nursing Home
Phimas Chemists
Education in Pipeline
Some of the schools in and around Pipeline estate include;
Topmax College is a middle-level college in Kenya that offers technical courses and a wide variety of business courses. It is located on the second floor of the Total Fedha Petrol station Building along the Outering Road Pipeline estate.
Bimz Beauty College.
Bimz Beauty College is located in Pipeline estate Opposite Honey Suckle Gardens along Kenya builders road. The college offers professional beauty courses, beauty services, and beauty products.
Softpro Training College.
This is among the best information technology training colleges in Kenya with a campus in Pipeline estate located on the Ground floor, shop E13 in Quickmart supermarket building, Outer ring road.
Paris College
Paris College offers hospitality courses, hairdressing, and beauty courses. It is located in the Quickmart supermarket building opposite the Pipeline stage.
Metab Computer college
Siloam High School
Pipeline Mukuru Academy Primary School
The Young Achievers Schools
Brookhurst International School
Entertainment joints in Pipeline
For the lovers of nightlife, dance, good food, and fun here are some of the clubs and bars you should consider visiting while in or visiting Pipeline estate.
Club Chairmans and Lounge
Ten Ways Club
Kaani I Club
Check Inn Club
Tonnies Lounge
Irish Lounge
Club Amazon and Lounge
Royal Hotel Nairobi
Icon Lounge
The pebble Hotel
Internet Providers in Pipeline
Some of the Internet providers with the most reliable, affordable, high speed and quality services in Pipeline are:
Rental houses in Pipeline
For those seeking a place to call home in Pipeline Estate here is the rent range of different units.
Single rooms Ksh3, 500 to Sh5, 500,
Bedsitters Ksh5, 500 to Sh9, 500
One-bedroom Ksh11, 000 to Sh13, 000.
Two bedroom Ksh14, 500 to Ksh16, 000
Advantages of living in Pipeline
1. Proximity to Nairobi CBD
Pipeline is located close to Nairobi city therefore residents can access the CBD with ease and at an affordable cost.
2. Affordable rent
One can live in a wide range of houses at relatively affordable prices compared to other areas close to Nairobi CBD. This makes Pipeline an attractive choice for families and individuals looking for cost-effective accommodation without compromising on proximity to Nairobi CBD.
3. Good connectivity to public transport.
Traveling to Nairobi or any other part of the country from Pipeline by public means is quite convenient as Pipeline is close to the Outer ring road and has good public transport connectivity.
Disadvantages of living in Pipeline
Like with any other town, there are potential disadvantages to living here.
1. High population density
Pipeline is known for how densely populated it is, this can limit personal spaces, privacy and increase the risk of diseases spreading during outbreaks. The high population has also led to safety concerns and an increase in petty crimes and vandalism.
2. Limited natural light
Most apartments in Pipeline are built close to each other, which limits exposure to natural light, especially on ground floor units.
3. Network connectivity issues
Many apartments here experience network connectivity issues due to their close proximity leading to poor mobile network reception.
4. Infrastructure challenges.
Pipeline estate suffers lots of inconveniences such as poor garbage collection, poor drainage systems, narrow streets, and unhygienic sidewalks.
Conclusion
As you have read in this comprehensive guide to pipeline estate, this neighborhood attracts a huge number of people from all walks of life.
Even though the estate has its share of challenges, like with any other town, its proximity to Nairobi CBD and rent affordability offers a unique living experience for families and individuals seeking for a dynamic urban environment.
If you would love to be part of this thriving neighborhood by buying an apartment, a plot of land, or investing in real estate, our website offers a range of options to suit your needs and preferences. Therefore we welcome you to visit our website and explore the opportunities waiting for you which are just a click away. Thank you for reading.